---
---
LED retrofit kit involves an LED driver and an LED light panel to be installed in a fixture to replace the existing light for a higher-efficiency LED lamp. Therefore, the retrofit kit is composed of a bracket, sleeve, screw, and quarter-turn fastener, basically, It's a LED Head, an external driver, and a series of mounting plates(PS: Brackets can be mounted vertically or horizontally in the fixture).LED Retrofit Kit and driver are fully separated allowing the driver to achieve the ideal working condition. Moreover, most of the kits also include a reflector, which is specially designed for the kit and can effectively guide the light from the lamp and project the light to the place where it is needed.


PRODUCT DESCRIPTION:
  Stubby LED Corn Lamps are great for a variety of retrofit applications. We supply high-efficiency 65watt and 85watt ETL/DLC listed LED corn light, which can replace high-wattage HID fixtures from 200W to 400W.
»LED replacement for high wattage HID fixtures from 100W to 550W.
» Consumes up to 80% less energy than conventional HID systems.
» State-of-the-art LED light sources to deliver over 155 lumens per watt.
» Lasts 3x longer than metal halide or HPS HID lamps.
» Shatter resistant for reduced risk of injury & breakage.
» Integral driver eliminates the need for external driver or ballast.
» Environmentally friendly: contains no glass, mercury, or lead.
» On-board fan.
SPECIFICATIONS:
»Voltage 100-277V ac -not compatible with ballasts
» Warranted 70% light output for 50,000 hours
» Non-dimmable
» Up to 155lm/W
» CRI: >80Ra
» Power Factor ≥ 0.9
» Flame retardant material
» Operating temperature: -4°F to 104°F (-20°C to 40°C)
» Base Types: E40/E39/Ex39/E27/E26 Base
» Beam angle: 360 degrees
» 5 years limited warranty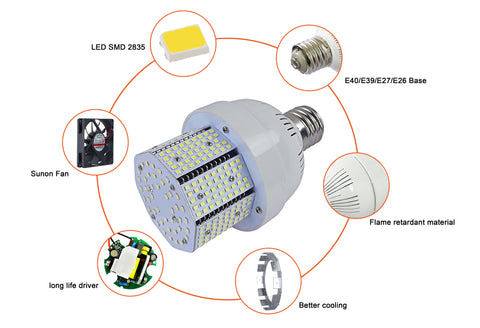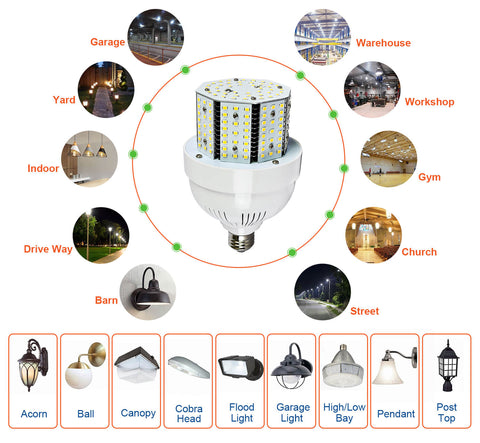 ---