Regular price
$919.99 USD
Regular price
Sale price
$919.99 USD
Unit price
per
Sale
Sold out
2 Year Warranty

50,000+ hr lifespan

3-7 days for delivery
Tech Specs
● Full body version red light therapy panel YL-IRP-004
● LED Power: 600W
● Wavelengths: 660nm Red, 850nm Near-Infrared
● High irradiance of >110mW/cm2 at 6inch
● Red & near infrared power switches for customized treatments
● Modular and mobile stand compatible
● Built in table top stand
● Total LEDs: 400 x 3 Watts
● 30 degree beam angle
● Flicker free LEDs
● Cooling Fans: 4
● 50,000+ hr lifespan
● 1 year warranty, 30 day trial period
● Size: 920*220*70mm /36.22"x8.66"x2.76" 001
● Weight: 8.90kg/ 19.62lbs
What's Included
1* Red Light Therapy Lamp               1* Power Cable               1* Power Link Cable
2* Lanyard               1* Door Hook               1* Goggles               1* User Manual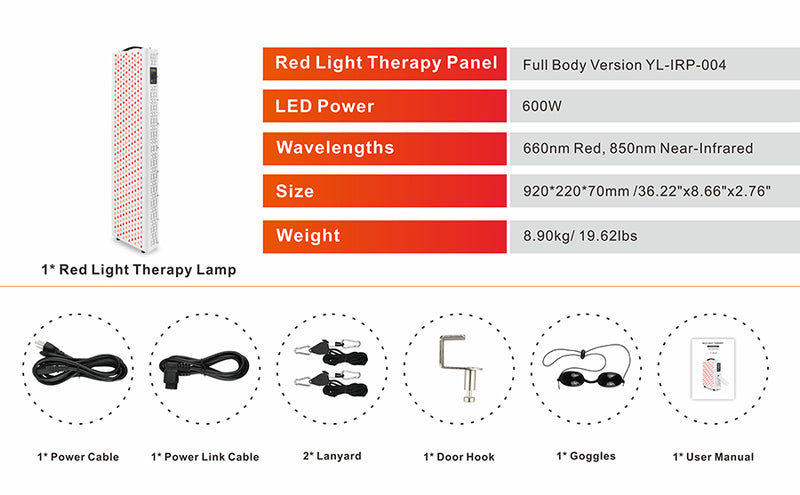 Treatment
● Distance: Use the device from 6 to 18 inches away.
● Treatment Time: Between 2-15 minutes, depending on the distance and goals.
   Skin/topical treatments require less time, while deep tissue treatments will require
   more time.
● Frequency: Daily
What is Red Light Therapy?
💡 YL-IRP-004 is a high powered, full body red and near infrared light therapy device designed to provide you with affordable, effective light therapy at home. The advantage of this large light therapy device is that you can treat a large area of your body at once. Full body light therapy is beneficial for enhanced energy, recovery from workouts, faster wound healing, hair regrowth, pain relief and much more! The YL-IRP-003 is modular and stand compatible, meaning it can be connected to other panels in the YouLumi series and attached to either of our mobile stands to create even larger, custom full body set ups. The panel features 300 dual chip LEDs emitting red and near infrared light at clinically proven wavelengths. 
Share
View full details
The application of red light therapy
Home Use
Red light therapy used to be limited to expensive salons and clinics but now thanks to high powered, energy efficient and affordable LEDs, all the benefits of red light therapy can now be achieved at home in just minutes a day. Much like we need nutrients from food and water, our bodies need light to function optimally as well.
Office Use
You can use it even when you are at work, without interrupting your work, just place it on the desktop and plug it in.
Leisure Use
When you have a free moment, the red light therapy is more suitable for you, it can make you feel relaxed.
Pet Use
Red light therapy products can also be used on your pet
Oral Treatment
660nm red light: absorbed at a higher proportionby the skin tissue, making itexpecially effective for boostingskin health andincreasing collagen production.
850nm near-infrared light:(Invisible light)has a particularly strongability to penetratedeeper intothe tissue,organs and joints, todecrease inflammation and repair.
Fitness Use
Before exercise, the red light bath can provide enough heat for the body, so that it is less prone to exercise soreness and other conditions; After exercise, a red light bath can reduce the fatigue of knee muscles. The effect of exercise + red light bath is more effective than exercise alone.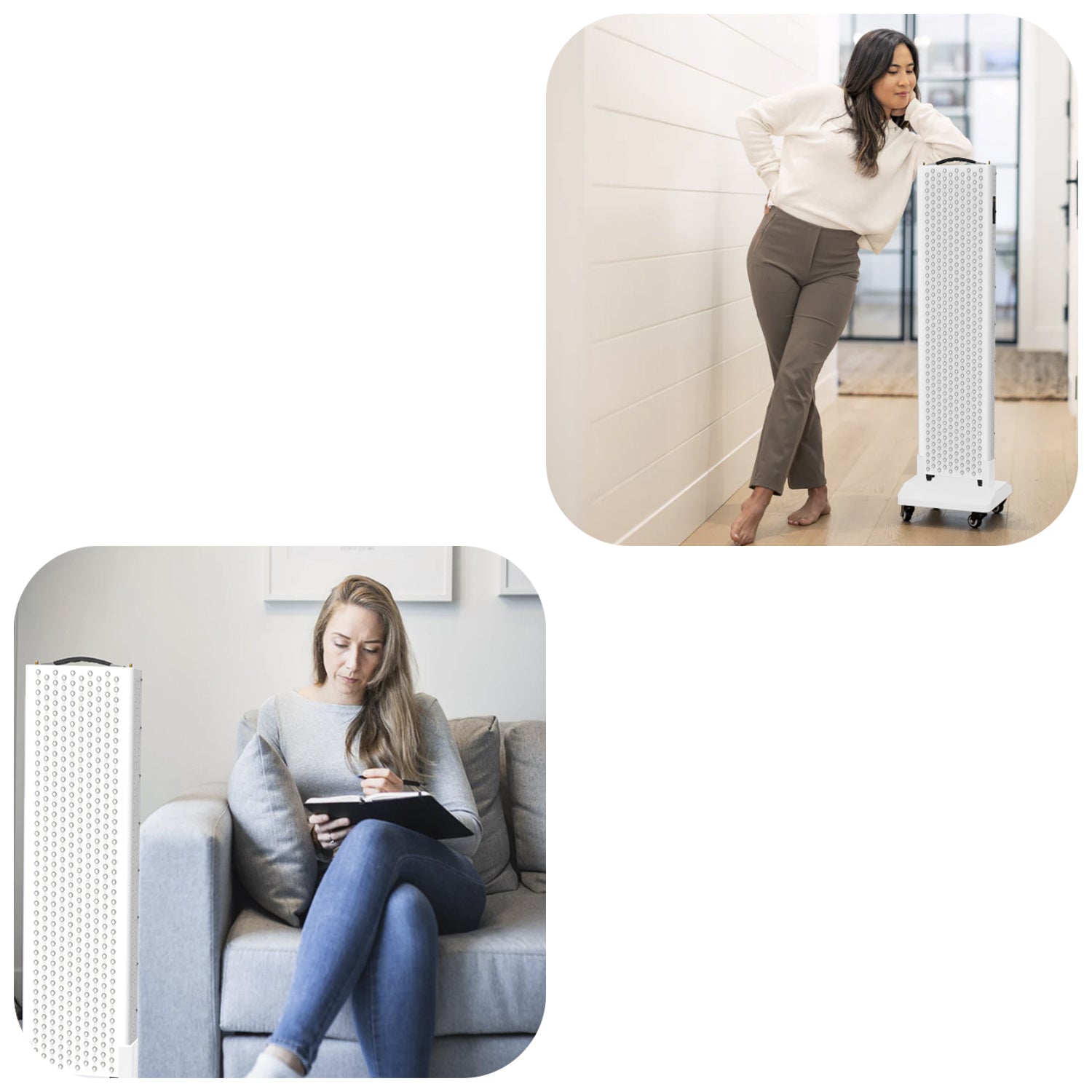 Portable Support
With a movable bracket, the device can easily change places, and some of the brackets can be installed with multiple red light therapy panels, and can be raised or lowered to meet your various needs for red light.
Mini Model, More Flexible
We have also introduced a mini model that is more convenient to use, flexible, and easy to carry, even if you travel, you will not lose the red light.
FAQ
How does red light therapy work?

Red light therapy works by acting on the "power components" in the mitochondria of human cells, and with more energy, other cells can work more efficiently, such as repairing skin, promoting new cell growth and promoting skin rejuvenation. Red light therapy is a safe, natural way to speed up the healing process of burns, surgical incisions, and scars.
How long does it take for red light therapy to work ?

It is not an immediate miracle transformation that will occur overnight, but it will provide you with ongoing improvements that you will begin to see in anywhere from 24 hours to 2 months, depending on the condition, its severity, and how regularly the light is used.
How often do I need to use red light therapy ?

Use device 1-2 times per day, and each time suggest 20 minutes on one treatment area, Then move device to next treatment area.
Do I need to continue to use the light as much when I start seeing results ?

Keep up the treatments until you reach your goal level of results. Then you can start a weekly maintenance schedule.
Once my problems have been resolved, do I stop using the light ?

It is best that you continue the use of the light once or twice per week as a part of a regular maintenance practice. This will help to make sure that the benefits will continue over the long-term.
Do you offer guarantee for the products ?

Yes, we offer 2 years warranty to our products.